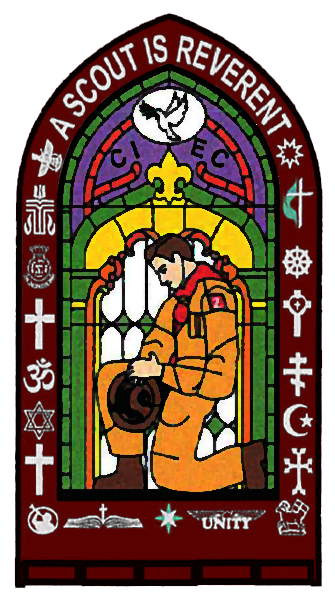 The 12th Scout Law states: A Scout is reverent.
A Scout is reverent toward God. He is faithful in his religious duties. He respects the convictions of others in matters of custom and religion.
The word reverence refers to a profound respect for God. The wonders of the world remind us of our God's creative power. We find it in the tiny lines of a leaf and the great mysteries of the universe. It exists in the kindness of people and in the teachings of our families and religious leaders. We show our reverence by living our lives according to the ideals of our beliefs.
The U.S. Constitution gives each of us complete freedom to believe and worship as we wish without fear of punishment. All your life, you will encounter people who hold different religious beliefs or even none at all. It is your duty to respect and defend the rights of others whose beliefs may differ from yours.
Lord Baden-Powell stated, "No man is much good unless he believes in God and obeys His laws. So every Scout should have a religion….Religion seems a very simple thing: First: Love and Serve God. Second: Love and serve your neighbor." (Scouting For Boys, 1908)

Troop 173 Chaplain: Carole Henkin
Religious Emblem Resources